If you love antiquities, there is no such museum to visit as the Palazzo Massimo. The best and most unique antiquities in Rome's history are preserved right inside of this structure, in a very elegant and sophisticated way. Did you know that Emperor Caligula had a Naval Floating Ship? Yes, you understood correctly! Inside Palazzo Massimo one of the rarities you can see is a representation of what the naval floating ship would have looked like and your English Speaking guide, will draw your attention over to the bronze remains that, back in the old times, would decorate it with such bizarre magnificence! Many great ancient world's masterpieces make Palazzo Massimo a museum to visit, like for example the frescoes removed from the Villa of the First Lady Livia, wife of Emperor Augustus. You will be completely dazzled by those well preserved frescoes, which were meant to represent a "Paradise": hence a prefect garden. Palazzo Massimo is also the ONLY place where you can admire a 2nd century BC painted Calendar, which is the only piece of evidence of a Lunar Calendar of the ancient world, first before Julius Caesar and much later Pope Gregorius, would adjust the reckoning of time for the modern society we live in!
In the rooms on the ground floor are exhibited splendid Greek originals discovered in Rome throughout the centuries, such as the Boxer at Rest, the Hellenistic Prince, as well as portraiture of the Republican and Imperial ages, culminating in the statue of Augustus Pontifex Maximus (High Priest).
---
National Museum Palazzo Massimo Tour
If you love antiquities, there is no such place as Palazzo Massimo, a truly unique museum. The best antiquities in Rome's history are preserved right .. Read more
Ostia Antica Half Day Walking Tour
Acclaimed as the "Better Pompeii", Ostia Antica offers a fascinating insight into life in the Roman Empire when it was at its peak. Take in the fresh.. Read more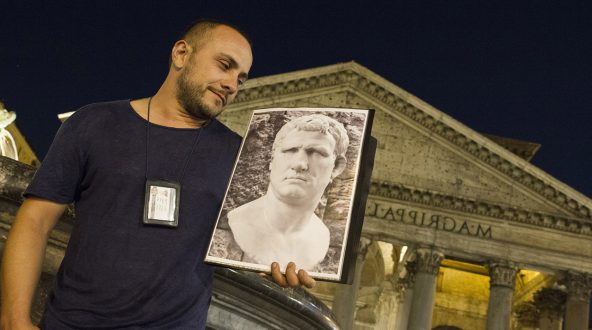 Julius Caesar & the Emperors' Nighttime Stories Tour
Enjoy this storytelling tour that captures the juicy scandals surrounding ancient Roman leaders, bringing their personal stories back to light. Did yo.. Read more
PRICE
37 euros (all included)
children under the age of 18 pay 30 euros
PRICE LIST FOR PRIVATE TOUR ALL INCLUDED
PRIVATE TOURS: You can choose when to start with your tour.
Tour for 1 person: 90,00 euros
Tour for 2 people: 110,00 euros
Tour for 3 people: 140,00 euros
Tour for 4 people: 170,00 euros
Tour for 5 people: 200,00 euros
Tour for 6 people: 240,00 euros
Private Tours are available every day but Monday. On a private tour you can decide your favorite start time, whether is the the morning or in the afternoon.
OPERATING DAYS
tue, thu
START TIME
2:30 pm
MEETING POINT
Central Rome, details provided after booking